For nearly six months, the Talentspace team were eagerly planning our annual Berlin Talent Summit (BTS) - a highlight of our year, where bright young graduates and some of the most exciting companies in Germany meet, make connections, share knowledge and kick off some brilliant careers. The 2019 BTS had seen over 300 attendees and 35 companies, and we were expecting even greater numbers this year, with lots of returning clients and attendees who expressed their enthusiasm for the Talentspace mission. What could go wrong?
Then, of course, COVID-19 hit. Our utmost priority has always been the health and safety of our team, attendees, and partner companies, and as the reality of the pandemic became clear we realized the BTS in its present form could not go ahead. But that left us with the big decision: what should we do next? As wave after wave of events companies postponed or suspended any announcements until an equally uncertain summer, we found ourselves keen to take the pandemic as a challenge rather than a setback. We didn't want to just go quiet for six months and hope for the best. An offline, in person, large scale event was clearly impossible. But what new possibilities had unfurled?
The making of the Online Talent Summit
Instead of cancelling the event, we asked ourselves whether we could deliver a Talent Summit as promised on April 24th - held entirely online. We quickly became excited by the possibilities the Online Talent Summit (OTS) offered: not only could our event and speakers go ahead as planned, but we could offer more talks (no room capacity to wrestle with) to more people (less accessibility restrictions).
At the same time, we felt like the typical avatar-led career fairs didn't suit our style or our generation. We did some research within our existing community and found that - unsurprisingly, from a generation of Snapchat and TikTok-users - for our attendees and companies alike, video was critical. If we couldn't meet in person, everyone agreed that it was still important to be able to communicate as close to face-to-face as possible. Other important factors came up from our early research: attendees wanted to be able to upvote each other's questions, in a similar style to the Reddit format. They wanted some kind of equivalent of the career booth, where they could dip in and out of conversation with a company representative. After our research, we had a good idea of what the OTS experience should be.
But the platform we needed for it didn't exist: so we had to build it. The fact that we were a small startup allowed us to shift gears overnight to build this new platform. And after six weeks of an extraordinary effort from our product and tech team, we launched the first ever OTS, where we hosted representatives from companies including Google, Porsche, Microsoft, BCG Digital Ventures, and many more. We were thrilled and grateful that they took the chance on Europe's largest ever fully virtual career fair.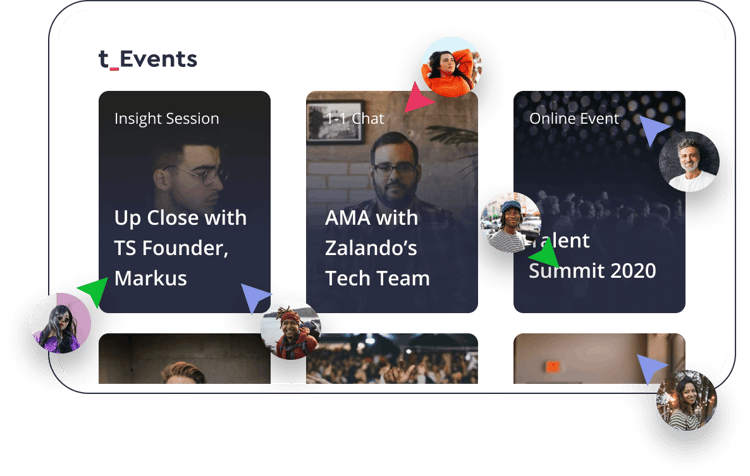 The OTS had multiple keynote speeches, 100+ interactive sessions, and over 400 one-to-one chats and interviews between companies and participants. We dived deep into topics from venture capital to artificial intelligence, from the consulting career path to the startup grind, from fresh graduates to experienced industry insiders. Our speakers included experts like the ex-Head of Recruiting at Uber, who offered invaluable advice from a hiring perspective, and the Co-Founder of Delivery Hero who discussed his path going from founding Delivery Hero to setting up his own VC fund. Employees from Airbnb talked candidly about how coronavirus had affected their company. A senior software engineer at Box talked about moving from Berlin to Silicon Valley. From corporate strategy at Google to product strategy at LinkedIn, from marketing at a VC to founding an AI start-up, all bases were covered.
And of course, in true Berlin style, we went out on a high note, with an informal networking session in the comments of our live DJ stream.
The feedback was overwhelmingly positive and the day was a huge success. But one of the most exciting parts of the OTS was when we realized how much more it offered - not just as a one-off fix during COVID-19 times, but as a path for events in the future.
Looking into the future
In order to host the OTS, we built our own all-in-one live online event platform specifically tailored for recruitment and employer branding. The Talentspace platform could host large scale keynote speeches, interactive panels, digital career booths, 1-to-1 chats and more. Our insight sessions attracted particularly positive feedback, as both attendees and speakers liked the way we offered a Q&A section with upvoting features that ran live next to the talks.
One of the major questions we had post-OTS was: what's next?
We realized that we weren't the only event organizers who were suddenly struggling in a post-COVID-19 world.
Our answer was twofold. For the attendees and for other keen graduates or young people starting out in working life - who are now facing a home office work situation, lay-offs, hiring freezes and an uncertain economic future - we wanted to offer the chance to continue to develop their careers even in these uncertain times. We launched Talent Talks as a continuation of the OTS insight sessions: weekly, revolving webinars from industry leaders on hard skills, career path options, job breakdowns, and more.
But we also realized that we weren't the only event organizers who were suddenly struggling in a post-COVID-19 world. Working from feedback given at the OTS, we continued to build out the brand new platform and started to offer it to our partners to run their own virtual recruitment and employer branding events on Talentspace.
Our platform is now available for any recruitment event, big or small. It's ideal for in-house recruiters, recruiting event agencies, and university career services, amongst others. You can catch the first Talentspace-hosted career event on July 10th, when Porsche launches their Porsche Online Recruiting Day: a unique opportunity to learn about career opportunities at Porsche, get a glimpse behind the scenes at the company, and directly secure an internship with Germany's 2020 best-voted employer.
Like almost every company around the world, COVID-19 had a major impact on our company. But the ultimate result for us was a path that we might never have envisioned without it. We're newly committed to replicating offline experiences in an increasingly online world. But we're also moving forward to unite digital and offline experiences, for the happy day when we can all be in the same room again.