At Talentspace, we know what we're talking about when it comes to online recruiting events. We've hosted an Online Talent Summit for more than 1000 participants, as well as building our own online recruiting events platform and hosting events for some of the most respected employers and academic institutions.
As we found out for ourselves, hosting an online recruiting event isn't always easy. But with our guide to best practices, any organizer can make a success of their virtual recruiting event. Whether you're using our platform or not, these tips will stand you in good stead.
Keep participant data easily accessible and referrable
A lot of the work involved in online events is in making sure they replicate the experience of an offline one. But there are also advantages to an online event that aren't possible when everyone is together in the same room. One of these is giving your employers access to participant information, from work experience to personal values: much easier online than everyone carrying around paper copies of their own CV.
Your platform should include both a place for participants to enter their work history and career goals and a place for employers to look at this information. That way, when participants want to talk to companies, the representatives of those companies (the employers) will already have a good idea of who the participant is, what they're after, and whether or not they might be a good fit. Rather than linking to an external site, i.e. LinkedIn, making sure that all the information is right there on your platform will make your event more of an all-in-one source for hosting successful recruiting events. Connections will be made faster, roles will be filled more easily, and conversations will be able to skip getting-to-know-you formalities and jump to the next level.
The takeaway: Make it easy for your employers to get to know your participants.
Prepare your participants before the event itself
Participants do best in career fairs when they've had a chance to research and prepare themselves. Their questions will be more well-informed and their responses to employers will be better targeted. In order to create a more focused recruiting event, encourage your employers to fill out information that will be useful to participants, in the same way you encourage participants to fill out their own personal data.
You might encourage your employers to add information around topics such as:
Company mission
Company size
Headquarters
Values
Company culture
You should also definitely encourage them to list any open positions, so that participants can already come into interaction with them on the day with a role in mind. An FAQ section is also a great way to get participants up to speed with employers so that their questions and conversations on the day can be more comprehensive. And again, make sure the company information pages are just as accessible for participants as they are for the employers themselves.
The takeaway: Make it easy for your participants to get to know your employers.
Interaction isn't simple, and making it accessible also means multiplying its forms.
Make sure people can interact
Interaction at an online recruiting event is key: it's the main way to stop your online event feeling like a YouTube video. An event by its nature involves interaction, and it's doubly important with an online event to push this to the fore, to reassure people that their involvement is still a key part of making an event dynamic and interesting.
But people always have different levels of comfort with communication, and these levels become even more demarcated in the online sphere. We recommend offering different forms of interaction to suit everyone's comfort level. Some people will prefer text-based communication, either via a chat function or even email, while others will be ready to jump into a video call. Some people will prefer one-on-one conversations and some will be happy to engage in a group discussion. And of course, one person could prefer multiple forms of interaction for different purposes throughout the day.
Make sure you have different forms of interaction available. A good starting point would be:
Live Q&A: so participants can ask speakers questions without interrupting the flow of a presentation.
One-on-one opportunities: so participants and employers can connect for a brief informational interview, to answer any questions either might have about the other and to see if there's a fit.
Varying session formats: Some participants will prefer one speaker giving a talk. Others will prefer more of a workshop style. A good recruiting event will offer both.
Company booths: Booths are always one of the most popular places at an offline career fair, a stall manned by representatives of a company who can answer questions and give participants live responses about potential positions. Find a way to recreate this experience in your online event.
The takeaway: Interaction isn't simple, and making it accessible also means multiplying its forms.
Integrate Q&A in an organized way
People need to be able to ask questions. It will lead your speakers down interesting paths, ensure that your sessions are connecting with your audience, and give you useful feedback on the kind of topics your audience are interested in. But at an online event, asking a question isn't as simple as just raising your hand.
Think about the kind of questions your audience might ask and what format they will need to ask. Is it likely to be a short question, the kind that could be conveyed over text? Will they need to explain themselves and give context, and require a chance to talk fluently? Will the event run more smoothly and the speaker be more prepared if people have a chance to ask questions beforehand? Make sure you've covered all your options when you're considering integrating Q&A into any event.
It's also a good idea to make some Q&A functionality available before the event. If you know the kind of questions participants are going to ask, it can help your speakers guide their talks and narrow in on subjects of interest. It also means that you can get most of the common questions answered ahead of time, allowing time for more interesting and subject-specific questions to come up within the session itself.
Finally, make sure your Q&A format won't interfere with how smoothly the session itself runs. If your Q&A is text-based, your speaker and other participants should be able to parse through the questions naturally and easily, marking questions that have already been answered and upvoting questions that are of particular interest. If your Q&A involves participants speaking on camera, make sure the technology you use has some kind of equivalent to "raising your hand", so that the conversation doesn't become either overwhelmingly loud or painfully awkward, and so that the speaker can easily moderate any question time.
The takeaway: As with interaction in general, consider making multiple forms of Q&A available - including some ahead of time.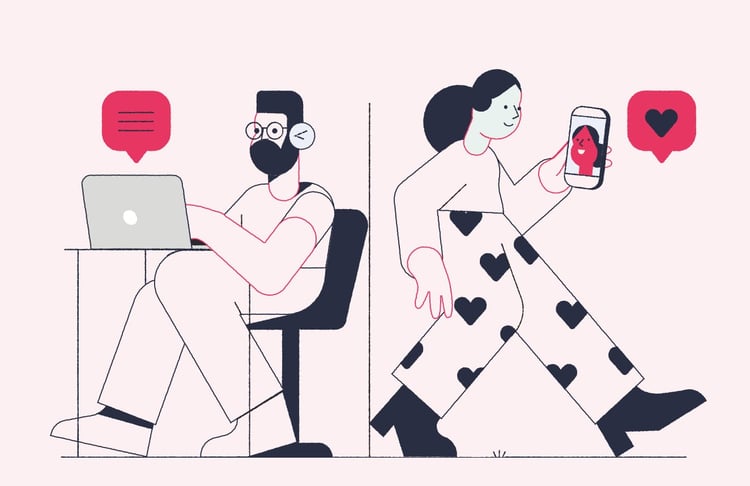 Build your own backstage room
You might not need somewhere for your presenters to sit and have a cup of coffee before they go on stage, but it's still useful to have a breakout virtual space where you, your team and your speakers can connect before going live to your audience. Take the time to prepare, make sure your speaker is ready, and get everyone ready to launch into the event - ideally, everyone should be online 10 minutes before the session starts. A breakout room could be as simple as a private chat between an organizer and a speaker, but ideally you'll be talking on the same platform as your online event in order to make a smooth and natural transition into the public event.
In the backstage room, run over the same questions you would for an offline event: do you need anything for the upcoming talk? Do you have any questions before we get started? Is there any way we can support you? Give your speaker a quick update on any new information, about the event, audience, platform or any other points that they need to be aware of. Take a moment to prepare together. Then launch with certainty into your event!
The takeaway: Give yourself and your speakers a time and space to prepare together immediately before the event.
Practice, practice, practice
For any event, you should be well-rehearsed and well-prepared. This is particularly important in an online event, where there's less to distract from any mistakes or faltering on your part. Online events are still relatively new, which means we're more likely to be harsher critics when we participate in them.
As a result, you and your team should run through the event several times before the event on the day. You should be confident with the platform you're using, able to navigate smoothly around the online space. You should be prepared for any technical failures or issues that might come up. You should make sure that everyone has a specific role that they have down pat, whether that's introducing speakers, preparing the next speaker, guiding participant chats, or being on call to troubleshoot when and as bugs come up.
Practice also involves making sure your timings are air-tight, that the day moves smoothly from one session to the next. Try a run through with your team, and make sure to practice timings in your onboarding sessions with the employers you're working with.
The takeaway: Practice everything around the event, from the platform to the personnel.
Make it easy for your audience to find you, and for you to find them, whenever a problem arises.
Be present
In an online event, you and your team will be less visible than in an offline setting. You won't be able to wear name tags or team shirts that make you easy to spot when you're needed. As a result, you'll need to work extra hard to make yourself accessible. Stay in close communication with your audience in the lead up to the event, so that on the day itself they already know who, and how, to reach out to if they have any issues. In each session, make sure you have a team member either already in the virtual room or close at hand in case any situation arises where you need to step in. Whether it's a too slow Q&A kick off, platform bugs or even a larger dispute, your team should already be on hand to turn the event back onto the right course.
Make sure this accessibility spreads across your entire brand and online presence. Be communicative and open on social media, send frequent updates, and have an easy to find FAQ and contact section on your event page. Online events run the risk of being faceless: make sure your event's face is easy to find, and smiling.
The takeaway: Make it easy for your audience to find you, and for you to find them, whenever a problem arises.
Stay active and engaged
An online event has a faster tempo than an offline one. The internet is a setting where you can't afford to drop the ball. Your audience already has a lot more to distract them than in a conference hall, from Netflix and social media to their own apartment, and you need to be snappier and more engaging to continue to hold their attention. Speed up your sessions a little: don't vamp on introductions, make sure you get to the crucial hook right away so that your audience doesn't click out of the tab. Equally, make sure every session starts at the scheduled time, right on the dot. Unlike an offline event, there's no excuse for being late to an online event, and looking at a blank screen for minutes when they're expecting to learn will make your audience restless and create a bad impression of your event.
This can be intimidating, but also exciting. There's less polite chit-chat and awkward introductions in an online event. The pace is faster. You can achieve much more, but you should be ready for the pressure to hit. Good thing you did all that practice!
The takeaway: Don't risk losing your audience's attention span with late arrivals, slow introductions or filler content.
Keep the conversation going
Once everyone has the option to interact, you need to make sure that people are actively engaging in their interaction options. This means creating spaces where people will talk and network. You don't want to lose the potential for networking that comes hand-in-hand with an offline space. Networking online is possible, but it does require more thought. Will you create rooms where your participants can talk to one another? Virtual booths to echo the experience of a career fair? There are tons of options, and indeed, the more the better: just make sure you've thought it all through and made it as accessible as possible.
Keeping the conversation going also stretches beyond your event. Building an audience for an online event is no joke, and you don't want to go to all the effort to create one only to lose them again post-event. Keep in touch via social media, emails, newsletters and more. Find non-irritating ways to remind them of the content they got from your event and work out what they'll want to come back for. For more information, read our guide to building (and keeping) an online audience.
The takeaway: Create spaces for people to talk to one another, and then ensure they keep talking to you.