It's the perennial question for event organizers: where are you getting your crowd? No matter the industry, a hugely important part of running an event is finding the right audience for it. In recruiting, this is doubly important, because recruitment and career events are much more of a two-way street: your employers are there to find great new employees, while your candidates are there to find great new jobs.
Over the years, most of us have worked out the methods that work best for us, our clients, and our events. But the large scale and worldwide move to online events has meant that many of us needed to reassess our methods. Building an audience for an online event is very different to finding an offline crowd, and though there are new audience opportunities in an online event, there are also new difficulties. In this article, we'll run you through some of the main pointers to keep in mind.
Think big… but not too big
First and foremost, an online event means greater accessibility. All at once, your audience won't be restricted by location. They won't have to consider whether they can afford to buy a train ticket. Any commute length - whether that be one hour or one day - will no longer be an issue. Online events make it easier for you to reach many more people, because the travel hurdle is gone and because the commitment to attend is lower: after all, you're only asking people to open their laptop. This means that your potential audience will have expanded dramatically, and you should go looking for them.
But you shouldn't start by just flinging your event at any email address you can find. It's even more important to think through and target very clearly one specific audience when you're running an online event, because you need to make sure you're running the right event for the right people. Don't be overwhelmed by the number of potential guests and try to please everyone. Build a considered and thoughtful event for a specific kind of profile in mind, and then think about where you can find that profile. If you're looking for young tech graduates, approach specific universities around the world you might be able to partner with. If you're after product managers, look for global slack channels or discord groups that you can talk to.
And don't forget about potential time differences: it's no good finding a large audience if half of them will be asleep for your event!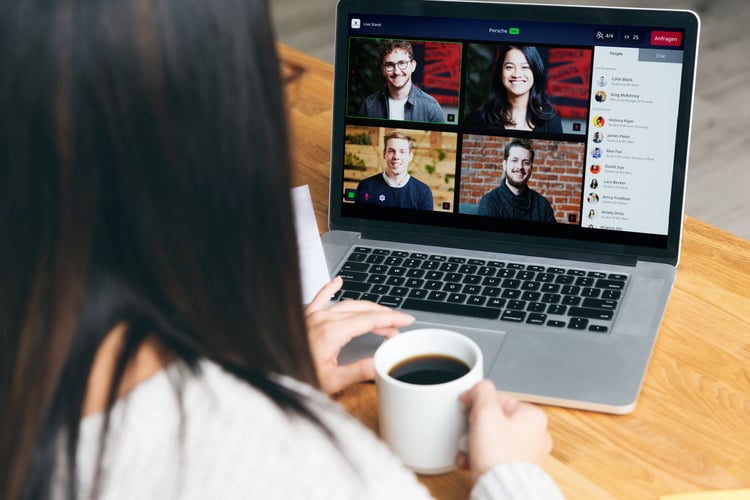 Stay in touch
It's all too easy to sign up for an online event, and it's often even easier to miss it. The low effort of attending an online event can often backfire on organizers, who might find it very simple to bring in numbers ahead of time and much harder to assure those numbers actually show up.
An important way to avoid a high dropout rate on the day of your event is to stay in close communication with your audience in the lead up. They should be excited; they should know exactly what they'll be getting on the day (and therefore exactly what they'll be missing out on if they don't attend); they should have questions they want answers to.
This means you need to verbalize what you're offering very clearly, but you may not want to verbalize it all at once. An event summary pre-sign up is obviously very important, but start thinking early on about follow-up emails and social media communication you can continue in the lead up to the event. How will you expand on the event's offer? Could you offer teasers into subjects or ask your speakers for a tantalizing quote from their keynote? If you've organized the event before, can you ask one of your old attendees for a testimonial? If you're hosting a Q&A session, ask attendees to submit some questions in advance - that way you'll get them thinking about the event ahead of time, and you'll create an incentive for them to tune in and hear their question answered.
Friendly, consistent, and useful information ahead of time is the key. Just make sure you plan it out carefully and don't overload your audience with emails: you don't want them to be sick of you before the event even begins!
Time for tickets
Online events are uniquely accessible and have a lot lower overhead costs than an offline event. As such, it can be both tempting and socially responsible to offer places for free, and it's certainly a great opportunity to open recruiting events up beyond the privileged few who might be able to attend similar events in capital cities.
But it's also hard to hold people to attendance when they don't feel like they have a stake in it. The simple fact of the matter is that people are more likely to attend an event if they've already forked out some money for it. Consider charging a nominal fee, between €3-5, and if social responsibility is important to you, you could donate some or all of the proceedings to charity.
The best thing about building an online event is how creative you can be - the code is your limit!
Use the right platform
We're living in an increasingly online world, but online events are still something new for many people. As such, you want to make it as easy an adjustment as possible. You need a platform that is simple to join and simple to use, with an intuitive and modern framework. It should consider the use cases of everybody on your platform, both in terms of the groups they're in (are they an employer or a candidate?) and their specific needs (are they a graduate or a student? Are they offering three open positions or three hundred? Do they speak English or German? Might they have additional accessibility requirements?). A central landing page for your event, easy access timetables for the day, and points of contact should your audience require assistance at any point are all also very important aspects to consider.
For us, that meant we had to build something for ourselves. When we set out to launch our Online Talent Summit, we found there wasn't the right platform for our needs, so we built the first all-in-one live online event platform with recruiting and employer branding at the forefront. We're happy to help you bring your events online as well.
Stay in touch… again
Once you've gone to all of this work, don't risk losing your audience after the event! It's important to stay in contact, get valuable information, and build them into lifelong fans of your brand.
You should have a plan well in advance for how you're going to stay in touch with your audience immediately after an event, and this plan should be staggered. In the first few days after your event, you'll want to get their feedback: send out surveys, find out what they liked and what they didn't like, or what else they're interested in. It's especially important here to look for constructive criticism. While we all like to hear what we're good at, it's not nearly as useful as being told what we did wrong. Put aside your pride and you'll be able to both improve your events and impress your audience at how you listened to and took action from their feedback.
As time goes on, you might want to show them that you've responded to their feedback, or send out snippets from the day that they might want to relive - excerpts from a keynote speech, for example, or feedback from employers about the kind of attendee candidates they went on to hire. Maybe you want to share similar events or content from another brand that you think they might be interested in: that reminds your audience that you don't just see the relationship as your brand dictating to them, but rather as a two-way street.
You could also try to find uniquely online ways to interact with them to keep them invested in your online presence. Perhaps you could ask for their input in Instagram Story polls. Or start a series of Tiktok remixes. Maybe it's time to finally make your own memes.
The best thing about building an online event is how creative you can be - the code is your limit! Build creatively, think proactively and plan ahead, and you'll love the opportunities that online events can offer and the new audiences you will find.