Working from home from time to time is a fairly common activity at most modern offices. Some companies offer one day per week to work from home, while others might be flexible when you're waiting for a particular delivery or undergoing a plumbing emergency. But what happens in situations like the one we're facing today during the COVID-19 pandemic, when whole companies are being sent home for an indefinite period of time?
Home office is a gift and a curse. It's wonderful that we can protect ourselves and our colleagues during these uncertain times, and—let's be real—it's fun for a day or two to work in your pyjamas and sing along to your music as loud as you like. (Not to mention constant access to snacks.) But all of the pitfalls that come with normal home office—like finding it harder to motivate yourself, or communicate with your team—are exaggerated too. And for many people, the best part of coming to work everyday is your colleagues: how can you maintain the energy and excitement about your work, when you're missing your team?
We talked to Yves Schleich, whose software startup Lyska prioritizes remote work, to get his tips on building a company culture just as vibrant and dynamic remotely as it is in office. And we assembled a few of our own ideas and practices here at TalentSpace.
Talk, talk, talk
Communication, unsurprisingly, is the key. Make sure your team and your colleagues know exactly what the plan is for remote working. If you're unsure about how some things are going to work, flag that, too.
Go into a communication thinking that everyone has good intentions. And then you can shape the communication that follows even better.
"It's important not to be too shy," Yves says. When you're working remotely, you can't pop by someone's desk to ask them a question, so it's important to feel comfortable reaching out via Slack or some other messenger, or even be ready to quickly pop onto a video call.
"It's also pretty important to always think that everyone is doing their best," Yves says. "Go into a communication thinking that everyone has good intentions. And then you can shape the communication that follows even better."
Like any professional communication, make sure to track your calls, messages and the decisions you make in them. Take notes from any meeting and make them accessible to stakeholders and other interested parties.
As you get used to remote working, you may find that some aspects of your company's approach are working better than others. Especially in the early weeks of remote working, it's important to check in with everyone and find out what processes are effective and which are just slowing you down. Give your employees and colleagues a chance to offer feedback, both by creating a culture that is open and positive towards feedback and in creating specialized feedback opportunities.
At Lyska, feedback is an important part of both larger quarterly interactions and weekly life. "We have feedback sessions where everyone gives everybody else some quick feedback, for five minutes - we call them Speedbacks. And then we have retrospectives as part of our Scrum working style, company and team retrospectives. This is the platform where people can bring their ideas, but also their problems. And this is where we find something like, oh, we need more possibilities to see each other, or something isn't working."
Use the right tools in the right way
Building up the right suite of tools is an important part of any company's life, but it's particularly important when you're working remotely. Make sure you have tools that will help you visualize the flow of work over the next few weeks of work. Get everyone to turn those notifications on. If you're thinking about introducing a new tool, consider whether this is the right time: you should prioritize stability and programs that people are very familiar with using.
Remote-first culture is the future of work.
Every company will have the tools that suit them best, but in general it's a good idea to make sure you have covered project managing and planning (with a tool like Asana, Jira, or Monday.com), collaborative documents and projects (G-Suite, Conga, or a good Office Suite linked with others) and a messaging system (Slack, Gchat or Hangouts, Jostle, and others). But finding the tools you want to use is only the first step. Just as important, and especially in a remote working office, is to use these tools in an effective way.
"At Lyska, we say we have different tools and every tool has its own responsibilities," Yves says. "This is most important, because there has to be a structure where everybody knows what tool to use for which responsibility."
For example, Yves tells us that at Lyska they use Slack for easy, direct, and fast communication. But they are strict about using threads. "The message should be the context, and then the thread is the discussion," Yves says. "That makes it easier to get everyone to quickly jump into a communication loop. But if the back-and-forth messaging gets too much, then we say to switch to a video call pretty quickly, because the facial expressions make things clearer and you can speak faster than you write, so it's more productive."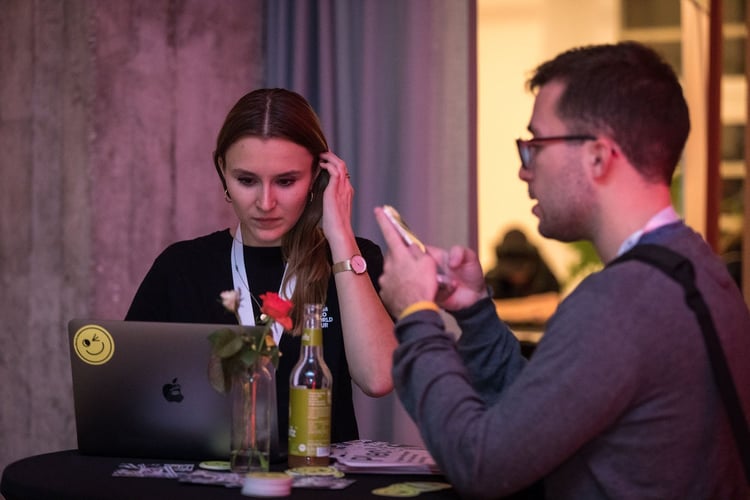 Maintain the routine
Home office might initially seem more peaceful than an office environment: somewhere you can control the atmosphere, not be disturbed by meetings that don't involve you and work from your favorite couch. But Yves warns that it's easy to get distracted the moment you leave the office environment, by a plant that needs watering or a room that gets tidying. The best antidote is to give yourself a routine.
Don't get distracted by, 'oh, cool, I can work from my garden!' Keep your efficiency up.
"You should plan your day as if you would be in the office," Yves says. "Get up at a certain time, have a shower, prepare yourself for the day, have breakfast, and then start to work. And have your breaks regularly as well. Don't overwork yourself."
"Don't get distracted by, 'oh, cool, I can work from my garden!'," he says. "I mean, you can do it! But you have to keep your efficiency up. Structure is the key."
Consider your culture
Company culture is one of the most crucial parts of working life. It's a big part of what will attract new hires to your company, and an even bigger part of why your employees will stay with you. It's undeniably more difficult to build this culture when your team is working remotely, and Yves advises companies to accept that it will take time.
"A company culture is something that has to grow, and especially in times like these, it's hard for bigger companies," Yves says. "To have that company culture right from the beginning is not always realistic, so it's important to keep productivity up in other ways."
But thinking about how to create or foster team spirit in a remote environment is still important. At Lyska, virtual get-togethers are a great way to keep everyone in touch and sharing their life and personality as well as their work.
"We start the week together not by going through tickets but with Okay Monday, where we check in for twenty minutes," Yves says. "Originally it was called Happy Mondays, but we realized not everyone has to be happy every day, it could be that someone just feels okay! We go through the team and everyone says how they're feeling, if there's important news for the week or just something that's happening. And then we have a funny, random question to finish off."
Lyska also uses other virtual get togethers, like a virtual coffee meet-up on Wednesdays. "This is just an appointment that we have in our calendar. Then it pops up and if you want to join, you can join." And of course, beer o'clock lives on even remotely: Lyska has virtual beers every Friday afternoon.
You can also get creative in the team Slack. Try inviting everyone to share photos of their home office working space, or a weekly online game with a small prize. Try The Wiki Game for starters!
Keep an eye on the upside
We're living in precarious and uncertain times, and it's easy to allow our anxiety around remote working to get the better of us. With so much changing so fast, it's frustrating that our jobs have to change, too!
But there's actually a great deal of advantages to remote working. It's good for the environment, as less people commute. It's good to test your team once in a while, and find new ways to strengthen your flexibility and productivity. It means you can spend more time with your family and less time commuting - one of Lyska's core values. And if you decide to stick with remote work, it's a great boost for hiring new talent, as you're no longer restricted by location.
"I define a remote-first culture as the future of work," Yves says.
It's up to us how that future looks. Working from home doesn't have to mean working alone. By staying communicative, focused, flexible, and fun, we can make our future a bright one.