Talentspace is the first all-in-one live online recruiting event platform. Using the Talentspace platform, you can bring your recruitment events online and let talents and employers connect and interact digitally.
How does it work?
The Talentspace platform is a home for all online recruitment events, big or small. Whether you want to host an intimate career workshop or a large-scale, multi-day, multi-company recruiting fair, the Talentspace platform has the capability and features required.
Across any event timeline, the Talentspace platform provides a host of features that work to replicate an offline experience in an online space - with all the benefits that only a virtual event can present. Pre-event, Talentspace provides a place to register for both the event itself and individual sessions, explore companies participating in the event, and search through participant databases to identify likely talent. During the event, Talentspace enables a variety of interactive video sessions in different formats to help employers and participants connect. Post-event, Talentspace remains an easy place to connect with participants, schedule follow-up conversations and recap the events of the day.
Who is it for?
Broadly speaking, Talentspace can be used by organizers, employers, and participants in different ways and with different aims. Let's go into some of these use cases.
Organizers are the hosts of the online recruiting event. They have the most control over the platform and set up capabilities and allowances for employers and participants. An organizer could be a university career center, career site or a company looking to hire talent. Organizers can mix and match the different formats and features to design the experience they envision. Organizers can also lead sessions, but usually they are the overarching host of the whole event and will take a more managerial and enabling approach to the event.
Employers are the companies that organizers invite to join the event. For example, an event hosted by an organizer might be attended by Porsche, Microsoft, and Google: in this case, Porsche, Microsoft, and Google are the employers. Typically, employers host sessions, connect in one-to-one chats or in a live booth with participants and fill out comprehensive company profiles that make it easier for participants to find them and employers to find talents.
Participants are the attendees of the recruiting event. Participants can attend sessions, ask questions, connect with employers, meet one-on-one with employers, join a live booth, apply for jobs, fill out a comprehensive profile, and more.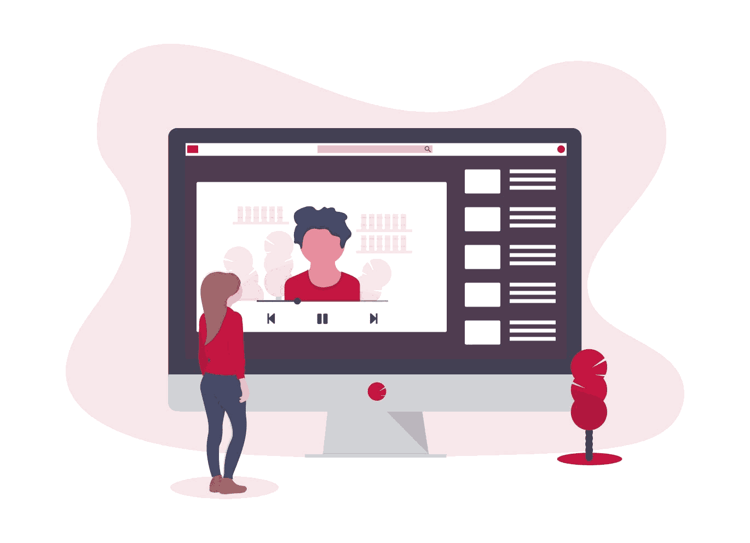 Platform features
The Talentspace platform is full of features designed specifically to replicate an offline recruiting experience in an online space. On top of that, it also adds a new layer of online-only benefits. Below, we walk you through some of the most important and popular Talentspace features.
Speeches
Speeches are essentially a live video presentation hosted by high profile speakers or employers that can be tailored to suit your needs. They are intended to address the entire event audience so only the speaker(s) is on video, with the option to upload their slides or share their screen. Participants engage via a text-based chat and Q&A.
Sessions
A session is essentially a live video presentation for multiple people. Like speeches, they can be tailored to suit your needs. They fit an audience of only a few people or a subset of your participants. They could be an intimate coffee chat or workshop with a handful of participants, or company presentation with 50 participants.
Sessions are configured by organizers and employers. In a session, the participants are also visible on video to the speaker, but have no speaking capability. The speaker/host of the session can, however, enable microphones (more on this below).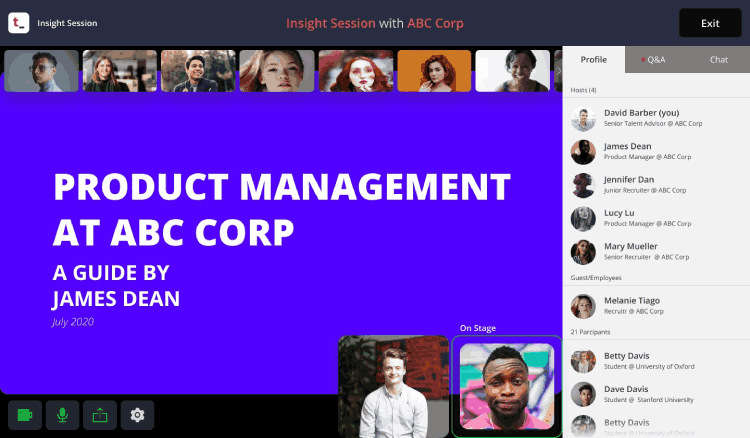 Multi-format Q&As
The ability to interact and ask questions is one of the most important parts of a recruiting event. As such, there are multiple Q&A formats built into the Talentspace platform. They include:
Registration questions can be part of the process of signing up to attend a session. When enabled, participants ask a question related to the session, speaker or topic as part of their registration. Others can upvote one another's questions. Employers see the most upvoted questions ahead of the event and can use them to shape the session's content or answer them to kick off a Q&A.
A live Q&A chat that runs during sessions. Participants can type in questions and upvote one another's questions if they're of particular interest. Session speakers see (and can focus) on the most upvoted questions and can mark questions as "answered" to remove clutter.
The "Raise Hand" function which allows participants to request camera and mic access during an insight session to ask a question and interact with the speaker. A speaker must then approve the request before the participant receives access.
Individual company FAQ pages as part of each employer's company profile. Employers can upload their own FAQs in advance of the event, and participants can also request specific questions that haven't yet been answered via the employer's live booth page.
1-1 chats
The ability to chat one-on-one with an interesting company or a bright young talent is important for both employers and participants. These (informal) interviews are built right into the Talentspace platform, where both participants and employers can request, schedule, and join private video chats. Here they can reconfigure the old "handshake and hello" technique at an offline recruiting event into a seamless meet and greet, with the opportunity to go straight to talking about potential roles at the company in question.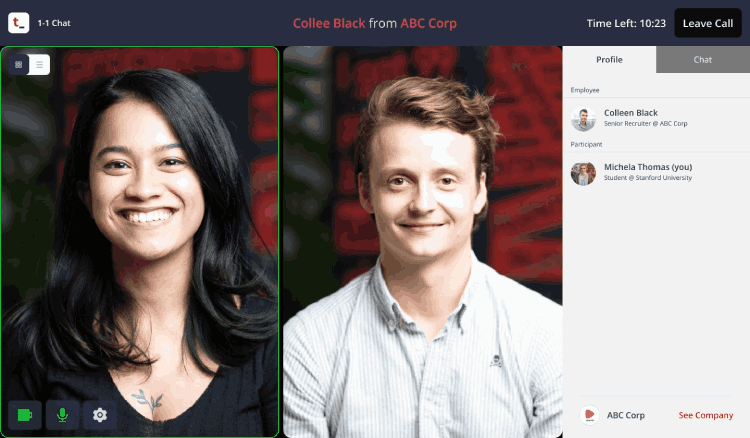 Live booths
The career booth is a fundamental feature of any offline recruiting event. The Talentspace platform allows employers to control their own live booths, which participants can come in and out of to echo the experience of walking up to a career booth in an offline event. Multiple people can interact in a live booth at any time, while more participants can be listening in. If the booth is full (the max. number of people with video and mic capabilities is reached) participants can request to join the booth and wait in line. Once a spot opens up, the employer host can invite a participant into the booth and give them camera and mic capability.
Comprehensive company profiles
Before the event, employers (or the organizer) fill out comprehensive company profiles that introduce the company to participants. As part of the company profile, employers are also encouraged to fill out their own FAQ section, which participants can then read and even request new questions be answered (see above). As well as this, a designated section of the company profile offers space for open positions, job listings, and more.
Searchable participant profiles
Participants, too, are encouraged to fill out comprehensive profiles with information about their education, work history and skill sets, as well as more personal questions about the kind of company they're seeking, the values important to them, and their availability.
These profiles then appear in a database for each event. If granted access by the organizer, employers can search through all the event participants in one section, with filters options including education history, field of interest, years of experience, and more. Employers can like appealing profiles, save them to lists to share with their colleagues, export the data, request one-to-one chats with the participants, and more.
Ready to get started? Book a demo with us today.